Experience a unique way to explore Banff
Renting a scooter from Banff Scooter Company is an excellent way to explore picturesque Banff. With the convenience of a scooter, you can easily visit top attractions like Lake Minnewanka, Banff Gondola, and Bow Falls. Or stop by the Hoodoos on the beautiful Tunel Mountain loop road.
The staff at Banff Scooter Company are knowledgeable and provide excellent customer service. The rental process is straightforward, and the scooters are well-maintained and easy to operate.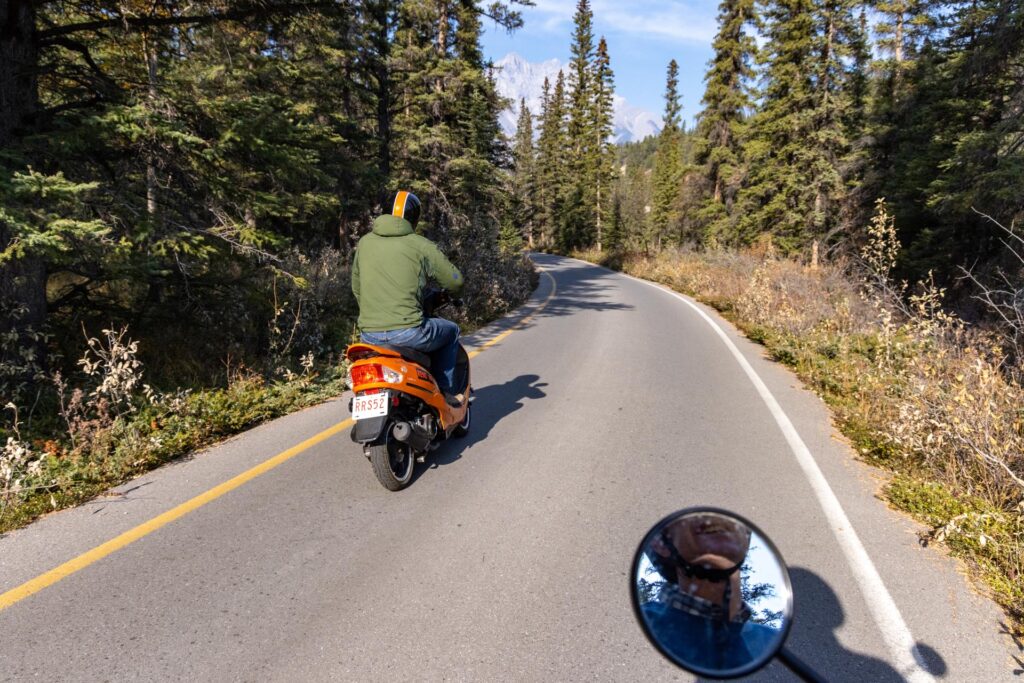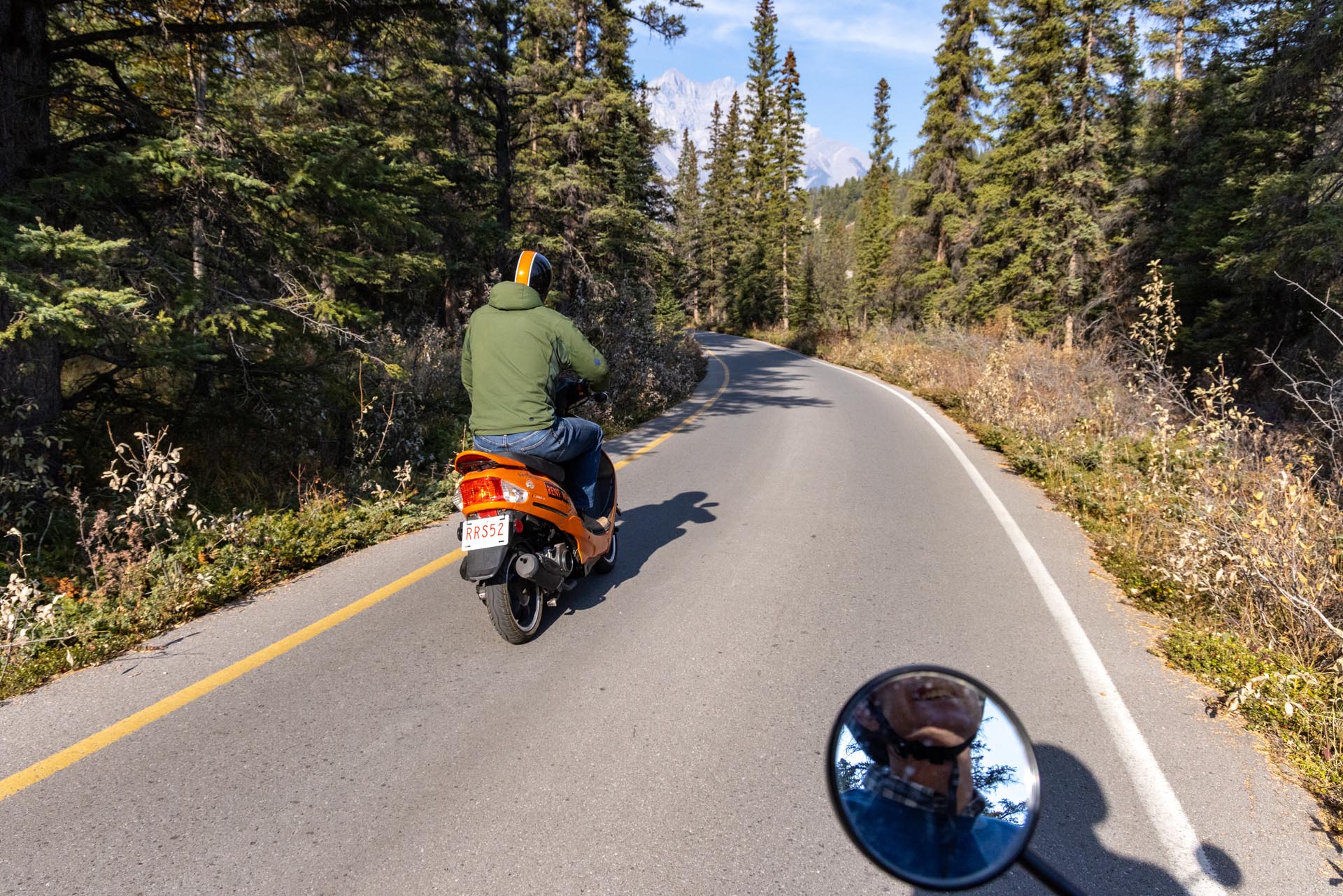 Pricing for a single-person scooter
Ask about our multi-hour discounts
Get ready to be the captain of your own adventure! Our scooters offer the freedom to explore Banff's best spots at your own pace, creating a personalized and unforgettable experience. Our friendly staff will happily recommend all the best places!
Who needs a car when you can hop on a scooter and ride your way to the best sights in town? Our rental shop is located at the Banff Train Station where you will find ample free parking. you can easily start your adventure without any hassle.
Our rental fees cover everything you need for a smooth ride, including helmets, locks, and gas. You can focus on enjoying the scenery without worrying about additional costs.
Don't worry if you're new to the scooter game – our 49cc, gas-powered, and fully automatic scooters are user-friendly and easy to ride. You'll be cruising like a pro in no time! Want to share the ride with a friend? Ask us about riding in tandem with your bestie.
Bring your camera, your sweater, and your sense of adventure – we've got you covered! Each of our scooters comes with storage space, so you can bring along all your essentials for a comfortable and well-prepared trip.
Rain or snow, we've got your back! If the weather doesn't cooperate, we offer a 100% refund so you can reschedule for a sunny day and fully enjoy your scooter experience.
Frequently Asked Questions
Check out all of the most common questions we get from our customers. We strive to exceed expectations to ensure you get the most enjoyment on your visit.
Explore Banff with our mobility scooter rental services. Rent a comfortable and reliable battery powered scooter today and explore amazing attractions and scenery hassle-free!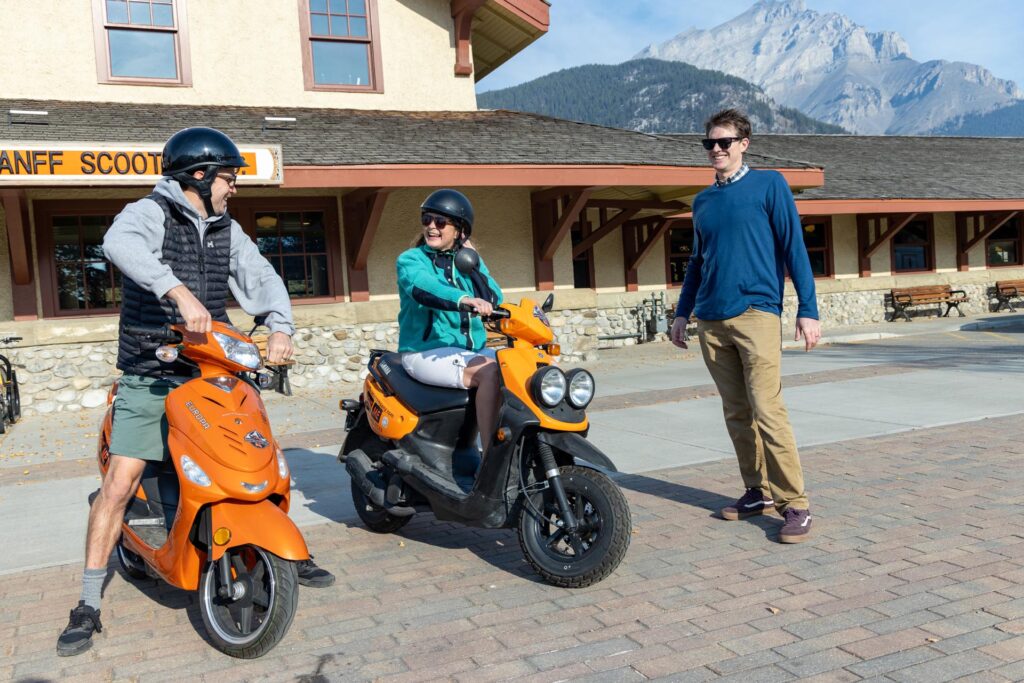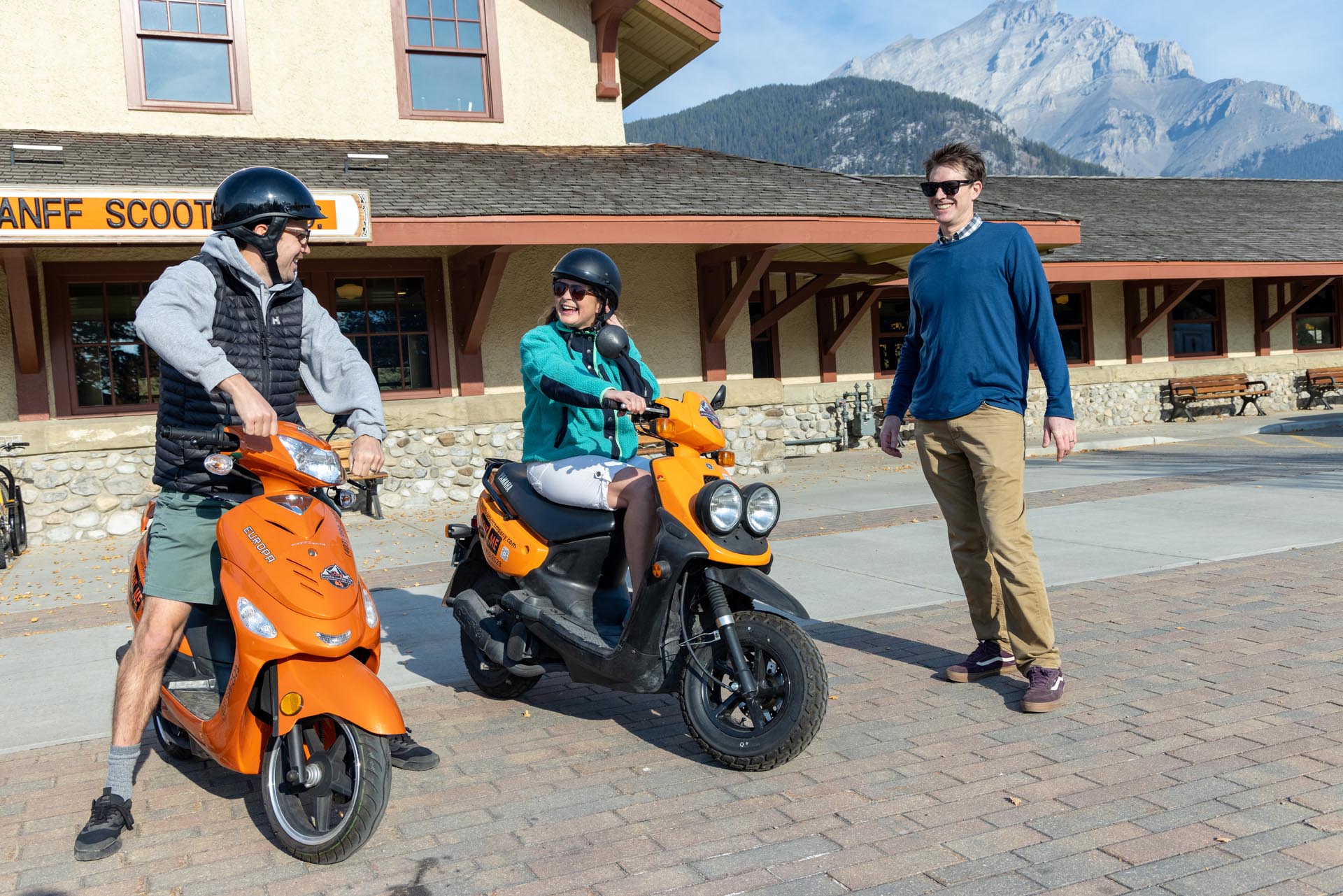 With experienced and knowledgeable guides you'll cruise through the Rockies and visit iconic locations like Lake Minnewanka, Vermilion Lakes, and Bow Falls. Take in the fresh mountain air and enjoy panoramic views. Don't miss out on this unforgettable adventure in one of Canada's most picturesque destinations!
Here are our most common questions
Our scooter rentals offer self-guided tours, allowing you to explore Banff's best spots at your own pace, creating a personalized and memorable experience. Along with your scooter, you will receive a correctly fitted, certified helmet that must be worn at all times while riding your scooter.
Before you head out on your ride, our staff will happily make suggestions on the best places to go in the time that you have, but prior to hitting the road, we always take you through some basic training and assess your confidence and ability riding the scooter.
Guided tours are also offered, please ask our friendly staff for more details or call 403-762-4421.